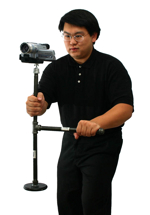 I decided to go searching for ways to make a home-made steadycam and found this website. According to the directions on the site you can build a Steadycam for $14. Pretty impressive if it works as well as it claims. The directions are very straight forward and easy to follow.
Steadycams are used to smooth out handheld video/film camera footage, smoothing out all the little bumps and sways that would otherwise be recorded. Usually when you are using a video/film camera to try and record smooth footage you have to either use a dolly (a kind of track for the tripod/camera to run along) or invest in an expensive commercial Steadycam attachment. A home-made Steadycam would be an ideal way to have the advantages of a commercial Steadycam without the large cost.
I checked out some of the sample footage and was most impressed. I'm definitely going to have to build myself one of these. I've got some great ideas for some interesting things to shoot with my new camera but lots of them require nice smooth movements so this would be ideal.