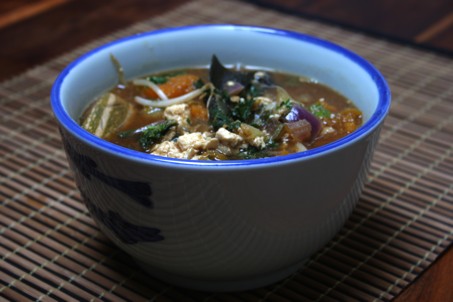 Add to saucepan:
1-2 cups of water (for desired consistency)

1 big clove garlic, chopped finely

1/2 medium onion, chopped

2 tbsp grated ginger

1-2 tsp fresh chopped chili

a handful pumpkin chopped into medium pieces

2 tsp tamari

2-4 tbsp fresh herbs (basil, sage, rosemary etc)
Simmer until pumpkin begins to soften.
Add to saucepan:
2-4 tbsp miso (hatcho, genmai, etc; add desired amount to taste)

a handful of seaweed, kelp or any other kind

1 big leaf of silverbeet, chopped roughly

1 tsp sugar substitute (fructose, honey etc)

1/2 a medium sized slab of semi-firm tofu
Simmer until seaweed, silverbeet is slightly cooked. Wait for miso to disolve.
Add in:
2 tbsp fresh parsley

a handful of bean shoots

1 tbsp tahini (optional)
Mix and serve