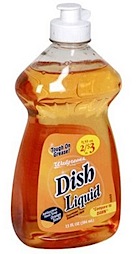 I have experimented with numerous soaps to clean oil paint out of brushes, from art shop soaps to a plain old bar of vegetable soap. Art shop soaps are always ridiculously expensive and I always end up using it really quickly – and they aren't necessarily very good anyway. Bars of soap work OK but it is hard to work the soap into a lather – especially on large brushes.
Recently I experimented with using dish washing detergent. It works fantastically and is so cheap – about $3 for a large bottle! Because the soap is already a liquid you can just dip your brush into it and it works into a lather extremely easily. The oil paint comes out so easily. After all, dishwashing detergent is made to remove fatty oils from plates and cutlery.
I recommend storing the soap in a large container so you can easily dip brushes to coat with detergent.
My method of final clean up at the end of the day is a quick rinse of the brushes in odourless solvent which removes 95% of the paint then a quick clean in the detergent to remove any remaining paint.